Enrichment Services for Homeschoolers
Exploration
Adventure
Enrichment
Mission Bay Aquatic Center is a vendor for various charter schools in San Diego which enables students to access programming at the center utilizing their vendor enrichment funds. Students can choose to participate in any of our youth programs including classes and camps in sailing, surfing, wakeboarding, paddling, marine science, STEM Explorations programs and more! Many parents use their funds during summer at The Watersports Camp, San Diego's premier youth watersports day camp! Our programs provide an opportunity for students to benefit from group learning and social interaction with other home school students while having fun in a relaxed and welcoming environment.
"The enrichment services at MBAC offer an unprecedented opportunity for skill building, personal growth, socialization, and structured practice affording individuality of expression - all in an environment in which kids find great joy and develop friendships. Our son's experience over the years has being rich and wonderful, and we attribute much of his exponential growth and maturity to his participation in the programming."
-- Peter - Parent of Inspire Charter School student
About MBAC
Mission Bay Aquatic Center is owned and operated by the Associated Students of San Diego State University and Campus Recreation-University of California, San Diego. Every year over 5,000 youth participate in programming at the Center. Our goal is to foster a connection to the ocean and coast through enriching watersports experiences in a safe, fun, and sustainable environment. Mission Bay Aquatic Center is home to The Watersports Camp, where many campers have encountered their first watersports experience, and have gone on to develop a life-long love and appreciation for the water and watersports for over 45 years. Mission Bay Aquatic Center has been nationally recognized by US Sailing as the "Outstanding Community Sailing Program" and "Center of Excellence for STEM Education", and is the Regional Boating Safety Center for the California State Parks Division of Boating and Waterways.
Registration
To register, parents should choose the class or camp they would like their child to participate in and register online using the name of your school as the coupon code at check out (ex: "inspire"). If we are currently a vendor for your school and you are registering for an eligible program our registration system will allow you to register without paying out of pocket and you will need to submit your enrichment certificate/student enrichment voucher to mbac@sdsu.edu prior to the start of the program. If you have any questions or issues during registration please feel free to contact us at (858) 488-1000.
Eligibility
Participants must be "water safe" and complete a swim assessment consisting of a 50-meter swim and treading water comfortably. If you have concerns about your student's participation, or they will require special consideration, please contact us at (858) 488-1000 to discuss which programs may be most appropriate for their successful participation.
Programs
The Watersports Camp
The Watersports Camp
Many parents choose to use their enrichment funds at The Watersports Camp, one of the world's premier youth watersport programs. The Watersports Camp is recognized as one of the safest and highest quality youth watersports programs in the nation. Thousands of youth have experienced watersports activities for the first time at The Watersports Camp.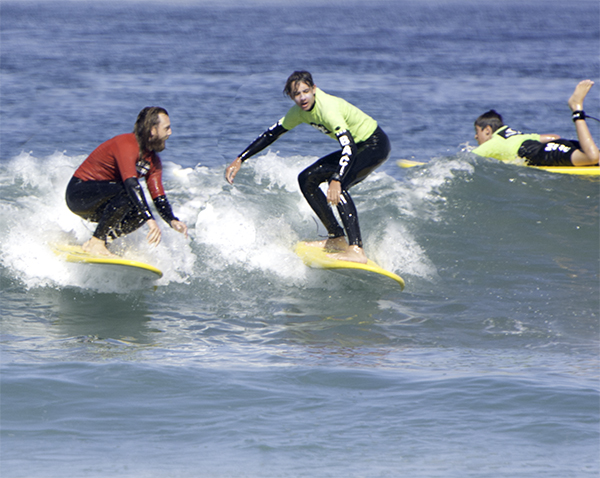 Youth Classes
Youth Classes
These classes are the perfect opportunity for year-round fun and learning in the water. There are classes for students ages 6-17 in sailing, paddling, wakeboarding, surfing, and more. Be sure to check out our STEM Exploration Classes that inspire youth interest in STEM and STEM-related careers through student-driven learning activities. Our Youth Watersports Enrichment Classes are ideal for students participating in homeschooling and allow for learning in a group setting during once or twice per week on-the-water sessions.
Group Lessons
Group Lessons
MBAC offers group lessons for class field trips and activities. Group lessons can also be set up for groups of friends and schoolmates to enjoy together as an outing.
For more information please contact Kevin Waldick at kwaldick@sdsu.edu.