ENS Class Registration Information for SDSU Students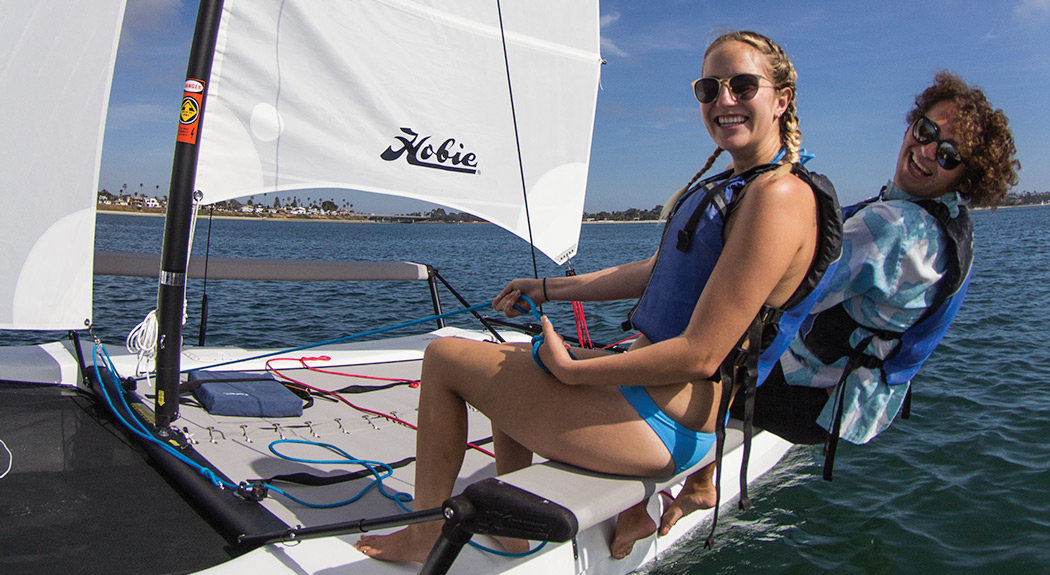 Exercise and Nutritional Sciences Watersports Classes are available for SDSU students to earn college credit. These classes are only open to currently registered SDSU Students who have registered for the class through the university. Students must register on my.SDSU for each class taken. These classes are a truly unique opportunity to learn a new watersport, meet new people, and enjoy the best outdoor experiences that San Diego has to offer.
Where else in the world does a college student get that opportunity? Get the most out of your college experience and sign up for a semester-long watersport class at Mission Bay Aquatic Center. You can view the current ENS class schedule at https://mbaquaticcenter.com/semester-classes.
How to Register
These classes are only available to currently registered SDSU students. You will register on my.SDSU for the specific class you would like to participate in. In addition, you will need to register with Mission Bay Aquatic Center and pay your lab fee. Information about how to enroll with MBAC and pay your lab fee will be sent to enrolled students through Canvas.
Schedule Adjustment Deadline
In order to register for the class, you must be added to the class by faculty by the Schedule Adjustment Deadline. Only those students enrolled through the university will be eligible to participate and receive credit for the class. If you are registered for a semester-long watersports class, you will not be dropped from the class for not attending/participating. It is your responsibility to drop the class before the Schedule Adjustment Deadline if you choose not to take the class. If you would like to change your grading basis from letter grade to credit/no credit, you must do so by the Schedule Adjustment Deadline.
Class Schedule
You can view the complete list of Exercise and Nutritional Sciences watersports credit classes at https://mbaquaticcenter.com/semester-classes. To see which classes are still available, search "ENS 122" on my.SDSU.
Where to meet
The first two weeks of class will not meet at MBAC and will require completion of online modules assigned in Canvas. Your in-person classes will meet at Mission Bay Aquatic Center, located at 1001 Santa Clara Place, San Diego, CA 92109. Transportation to and from campus is not provided and you will need to find your own mode of transportation to class. More detailed information (including when classes begin meeting in-person) will be communicated through Canvas before your class begins.
Fees
There is a lab fee that must be paid to MBAC to participate and receive credit. The fee for each class can be found by selecting your class on the Semester Classes schedule page. This fee covers the cost of all required equipment for the class and instruction provided to you throughout the semester. The fee is due by the first in-person class meeting at MBAC and must be paid online. You will receive the link and instructions to pay your fee and register with MBAC on Canvas after the start of the semester.
Frequently Asked Questions
WHAT ARE ENS WATERSPORT CLASSES?
ENS watersport classes are SDSU's Exercise & Nutritional Sciences classes where SDSU students can earn 1 unit of credit for participation in a watersports class that meets once/week for 1 hour, 40 minutes throughout the semester.
HOW DO I GET TO MISSION BAY AQUATIC CENTER (MBAC)?
MBAC is a 20 minute drive from campus. If you don't have a car we recommend that you find a way to get to MBAC for your first in-person meeting by using public transportation or a ride share. Once you meet people in your class on the first day it's typically easy to arrange a carpool with other students if you offer to pitch in gas money.
WHAT'S THE COST INVOLVED IN THIS CLASS?
Each class has a lab fee which covers the cost of instruction and equipment used for the duration of the semester that is payable to MBAC and not covered in general tuition fees. If you are an out-of-state or international student that pays tuition per unit you would also be responsible for paying for the unit to the university.
HOW DO I REGISTER FOR A CLASS?
Just like any other SDSU class you will register through my.SDSU and add a class to your schedule. Additionally, you will receive a link through Canvas before the start of class to register and pay your fee online to Mission Bay Aquatic Center.
WHO CAN TAKE THESE CLASSES?
These classes are open to all currently enrolled SDSU students in any major. You must be water-safe meaning you are capable of swimming 50 meters and treading water comfortably.
WHY SHOULD I TAKE AN ENS WATERSPORTS CLASS?
SDSU has this amazing and unique waterfront center where you can earn credit while taking a break from your hectic schedule each week to focus on wellness and learn on the water. In these classes students make lasting friendships, learn a new sport, and develop a life-long connection to the coastal environment. Class fees are affordable and often cost less for an entire semester than you might pay for a single day elsewhere.