INSTRUCTIONAL CLINICS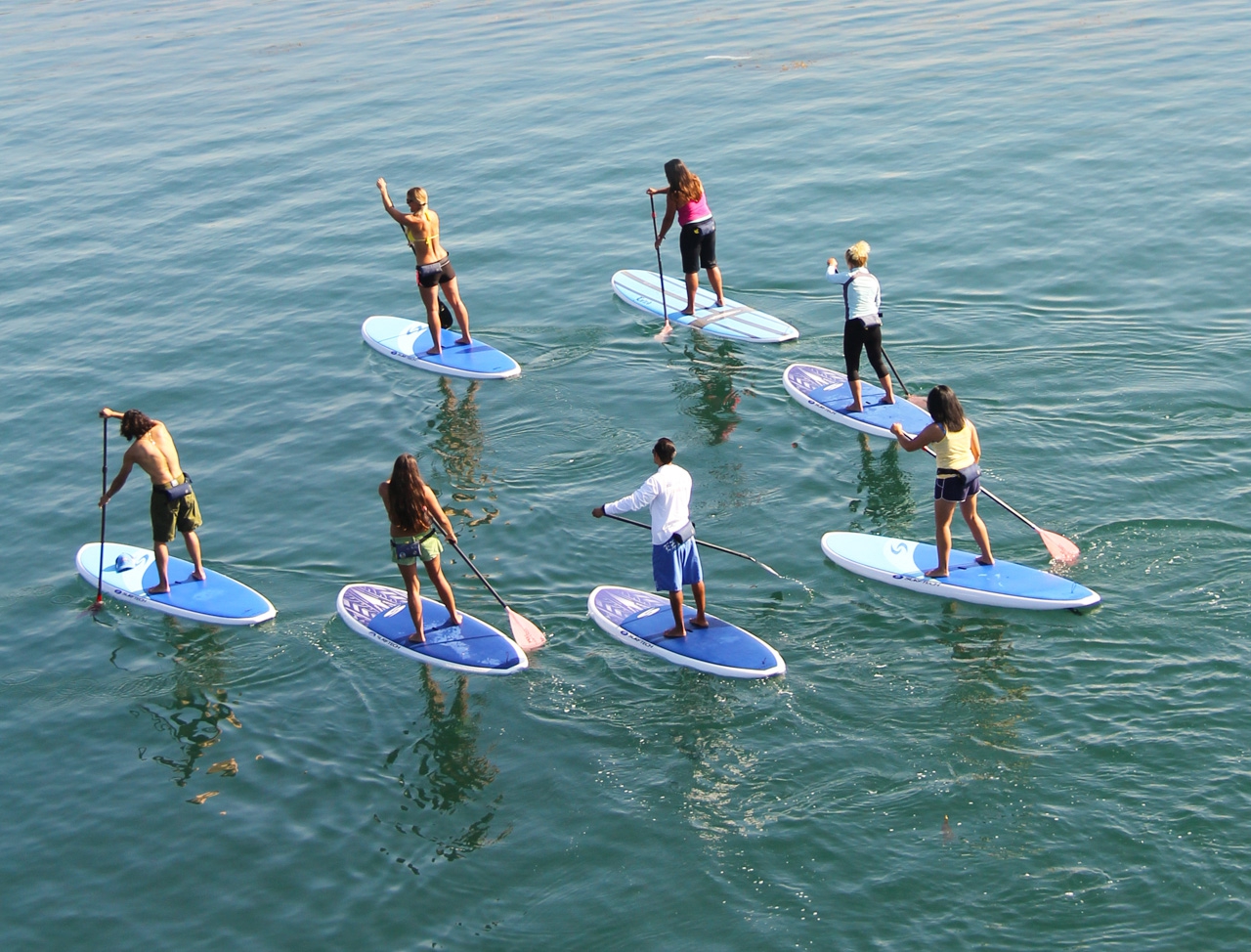 Instructional Clinics are a great way to increase your paddling skills or enjoy a guided outing in a short one session format. These clinics are a complimentary benefit to Paddling Members, but also available to non-members. If you are a current paddling member, please contact us for information on how to redeem your free clinic.
UPCOMING CLINICS
Stand Up Paddleboard Yoga
Experience amazing yoga practice outdoors and on the water! Using stand up paddleboards as a floating mat, we will practice a sequence of asanas (yoga poses) on the flat water of Mission Bay. While no prior yoga experience is necessary, this practice will challenge your individual edges of flexibility, focus, strength, and balance. We will conclude with a relaxing savasana (meditation) before paddling back to shore.
Saturday, September 11, 2021 9:00am-11:00am REGISTER NOW
Moonlight Paddling
Want to go stand up paddling or kayaking under the moon and stars? This outing takes advantage of the typically glassy conditions on Mission Bay at night. You can choose to paddleboard or kayak and all equipment is included.
Tuesday, September 21, 2021 6:30pm-8:30pm REGISTER NOW
Wednesday, October 13, 2021 6:30pm-8:30pm REGISTER NOW
Friday, October 22, 2021 6:30pm-8:30pm REGISTER NOW
Members-Only Paddle
Enjoy a casual tour to Santa Barbara cove with other members. Meet other paddling enthusiasts while having fun on the water! You can stand up paddleboard or kayak. Open to Paddling Members Only.
Wednesday, September 15, 2021 3:30pm-5:30pm REGISTER NOW
Paddle Smarter Clinic
Ever wondered how to handle windy conditions on a paddleboard like a champ while minimizing fatigue and looking better than your friends? We will start out by discussing strategies to make your paddle trips easier and more fun. Next we will explore some fun spots around the bay while practicing the newly-learned techniques.
More dates to come.
Power Paddle Clinic
Learn a few momentum building techniques before setting out on a fast paced distance paddle. Members will have a chance to experience the calm early morning waters of Mission Bay while using our touring boards. This class is designed for members who are comfortable with their paddling technique and looking to improve their ability to go farther and faster.
Tuesday, September 28, 2021 7:00am-8:30am REGISTER NOW
Kayak Games
Bring a healthy sense of competition and we'll bring the fun! We'll set up games and relays that will have you smiling the whole time you're improving your kayak skills.
More dates to come.
SUP Obstacle Course & Games
We'll have fun and splash our way through learning technical maneuvers such as the pivot turn and draw strokes. You'll walk away from the class with some new tricks to show off when you're on the water with your friends.
More dates to come.
Prone Paddling Clinic
Here's your chance to get an introduction to the sport of prone paddling! During this clinic you will become familiar with prone paddling equipment and practice techniques for effective paddling.
More dates to come.
Rates
Course Fee: $60.00
UCSD/SDSU Student Fee: $45.00
This class is not being offered at this time. Please check back.