WAKEBOARDING PRIVATE LESSON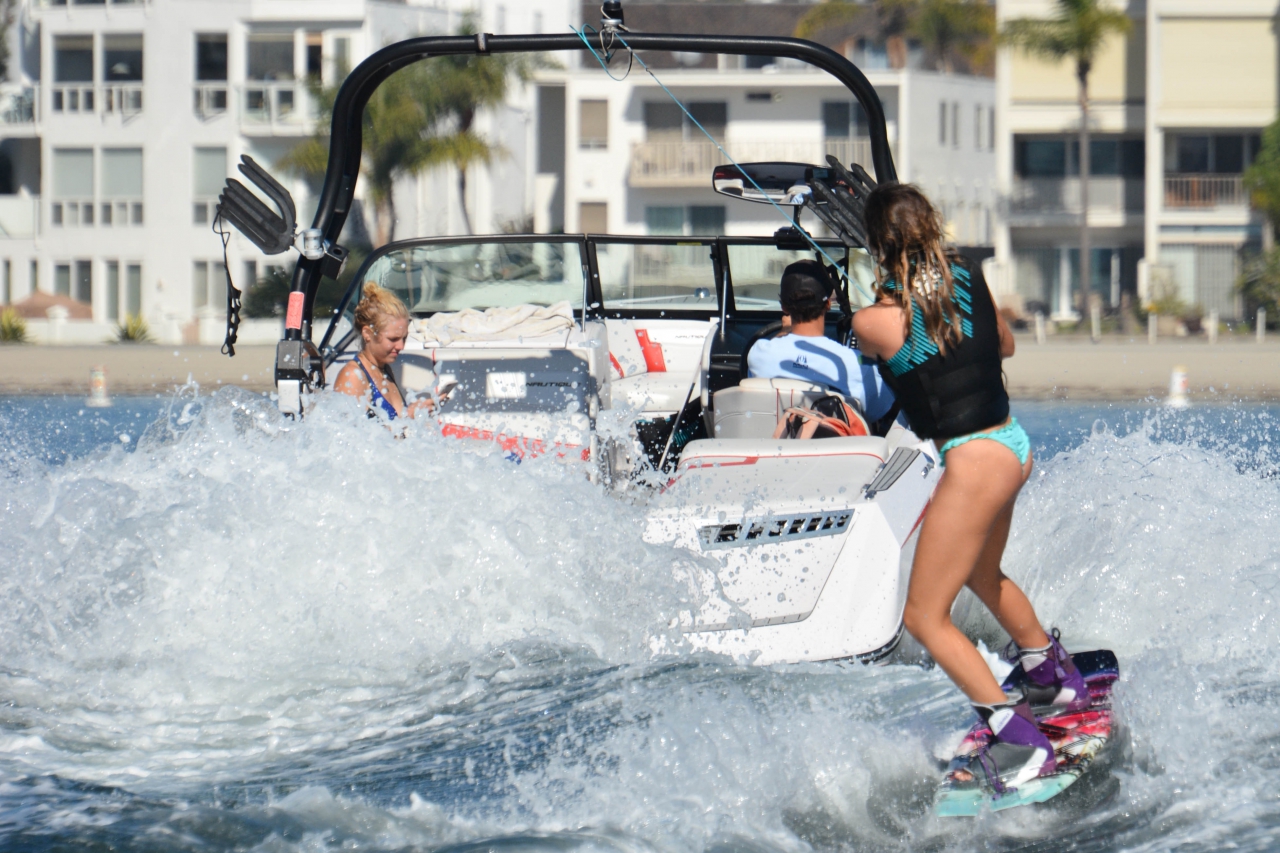 Whether you are looking for instruction or just want to get out and ride our wakeboarding private lessons will get you out riding behind a top of the line Super Air Nautique 210 or GS20 on current year Liquid Force or OBrien boards and equipment. During your private session you can choose to wakeboard, wakesurf, or waterski. Our private lesson rates are all inclusive with equipment, gas, and we provide a US Coast Guard licensed driver/instructor. Our all-inclusive lesson prices are lower than most competitors prices for renting just a boat. Bring up to 5 people for this top-quality wakeboarding experience.
Requirements
Minimum 2 participants. Up to 5 participants. For lessons for more than 5 participants please see special events.
Minimum age requirement is 6 years old. Helmets must be worn by all participants under 18 and participants under the age of 13 must wear a PFD at all times.
Rates
Course Fee: $390.00
UCSD/SDSU Student Fee: $280.00
Upcoming Classes
WAKEBOARDING PRIVATE LESSON SCHEDULE

Class Runs
Day(s)
Time
Enroll
12/4/2022
1
Su
9:00AM-11:00AM
12/10/2022
1
Sa
9:00AM-11:00AM
12/11/2022
1
Su
9:00AM-11:00AM
1/7/2023
1
Sa
9:00AM-11:00AM
1/8/2023
1
Su
9:00AM-11:00AM
1/14/2023
1
Sa
9:00AM-11:00AM
1/15/2023
1
Su
9:00AM-11:00AM
1/21/2023
1
Sa
9:00AM-11:00AM
1/22/2023
1
Su
9:00AM-11:00AM
1/28/2023
1
Sa
9:00AM-11:00AM
1/29/2023
1
Su
9:00AM-11:00AM
2/4/2023
1
Sa
9:00AM-11:00AM
2/5/2023
1
Su
9:00AM-11:00AM
2/11/2023
1
Sa
9:00AM-11:00AM
2/12/2023
1
Su
9:00AM-11:00AM
2/18/2023
1
Sa
9:00AM-11:00AM
2/19/2023
1
Su
9:00AM-11:00AM
2/25/2023
1
Sa
9:00AM-11:00AM
2/26/2023
1
Su
9:00AM-11:00AM
3/5/2023
1
Su
9:00AM-11:00AM
3/12/2023
1
Su
9:00AM-11:00AM
3/19/2023
1
Su
9:00AM-11:00AM
3/26/2023
1
Su
9:00AM-11:00AM
4/2/2023
1
Su
9:00AM-11:00AM
4/9/2023
1
Su
9:00AM-11:00AM
4/16/2023
1
Su
9:00AM-11:00AM
4/23/2023
1
Su
9:00AM-11:00AM
4/30/2023
1
Su
9:00AM-11:00AM
5/6/2023
1
Sa
9:00AM-11:00AM
5/7/2023
1
Su
9:00AM-11:00AM
5/13/2023
1
Sa
9:00AM-11:00AM
5/14/2023
1
Su
9:00AM-11:00AM
5/20/2023
1
Sa
9:00AM-11:00AM
5/21/2023
1
Su
9:00AM-11:00AM