KEELBOAT SAILING LEVEL 1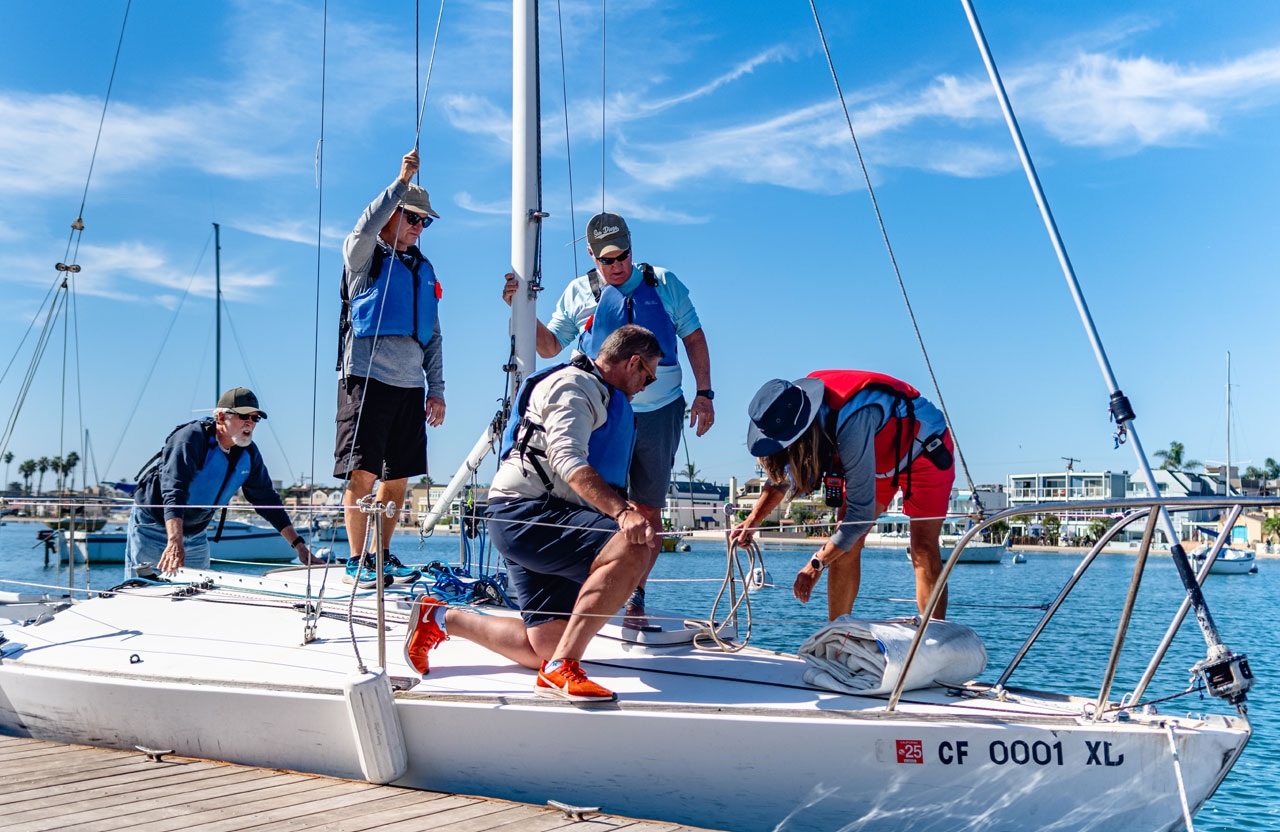 Basic Keelboat Level 1 is an ideal introduction to keelboat sailing. Plenty of practice time will give you confidence and a solid foundation in sailing to prepare you for sailing larger, more advanced boats. This class is your first step towards obtaining a US Sailing Basic Keelboat Certification.
What Will I Learn?
This class introduces the fundamentals of sailing on a comfortable and stable J/24 sailboat. Through a combination of classroom and on-the-water practice you will learn the fundamentals of sailing a 24' keelboat on Mission Bay. Topics covered include:
Knots
Sailing terminology
How sails work
Sail trim
Points of Sail
Tacking
Jibing
Crew coordination
Navigation rules
Conditions permitting, this class culminates with an ocean sail. Course fee includes US Sailing's Basic Keelboat book, the companion book for Keelboat Sailing Levels 1 and 2.
Is this the right class for me?
Basic Keelboat Sailing Level 1 is one of two entry-level sailing classes offered at MBAC, the other option for beginners being Basic Sailing. Basic Keelboat Sailing Level 1 is the right choice if you hope to sail larger boats in the future or are interested in obtaining a US Sailing Basic Keelboat Sailing certification. Basic Sailing is a better choice if you want the opportunity to sail a boat on your own and want to become eligible to rent sailboats from MBAC.
Additionally, Basic Keelboat Level 1 may be a better option for students with mobility issues as the keelboat used in that class does not demand as much agility as the Sabot used in Basic Sailing. Our First Sail class is another good option if you are looking for a shorter sailing class to try before comitting to a full-length class.
If you have some sailing experience but have never taken a formal sailing class, we suggest starting with Basic Sailing or Basic Keelboat Level 1. Our experience has shown that people who learn to sail informally often have gaps in their knowledge that are best addressed by completing an entry-level class.
Requirements
Basic Keelboat Sailing Level 1 is an entry-level class with no required prerequisites or prior experience.
This class is open to all participants aged 14 and up.
A general liability waiver is required to participate. Anyone under 18 must have a waiver signed by their parent or legal guardian.
Participants must acknowledge that they are water safe (able to swim 50 meters and comfortably tread water).
How to Prepare
Wear comfortable clothes and dress in layers. The temperature can feel much cooler than expected once you are on the water, so it is a good idea to bring a jacket, even on warm days. We suggest comfortable closed-toed shoes and sunglasses and a hat are highly recommended. Lifejackets are provided.
It is unlikely that you will end up in the water while sailing during this class, but you may get a little bit wet from small splashes, handling wet lines, etc. anytime you go on a boat.
There is an optional US Sailing Basic Keelboat book available to purchase when you register. It is encouraged (but not required) that you pick up your book from MBAC when enrolling in this class and read it before beginning the class.
Bring sunscreen, a refillable water bottle, and snacks or lunch (for all-day classes). MBAC has a water bottle refilling station and there are a number of restaurants nearby, but keep in mind that food and drink are not available for purchase at MBAC.
Parking can be a challenge at MBAC, especially during the summer months. Please visit our parking page for more information.
What's Next?
Upon successful completion of Basic Keelboat Sailing Level 1 you will be ready for Basic Keelboat Sailing Level 2 or Advanced Sailing.
If your goal is to obtain the US Sailing Basic Keelboat certification you must complete Basic Keelboat Sailing Levels 1 and 2 and pass a written test.
Rates
Course Fee: $390.00
UCSD/SDSU Student Fee: $275.00
Upcoming Classes
KEELBOAT SAILING LEVEL 1 SCHEDULE

Class Runs
Day(s)
Time
Enroll
1/6/2024-1/7/2024
2
Sa Su
9:00AM-4:00PM
2/3/2024-2/4/2024
2
Sa Su
9:00AM-4:00PM
3/2/2024-3/3/2024
2
Sa Su
9:00AM-4:00PM
3/23/2024-3/24/2024
2
Sa Su
9:00AM-4:00PM
3/23/2024-3/24/2024
2
Sa Su
9:00AM-4:00PM
4/6/2024-4/7/2024
2
Sa Su
9:00AM-4:00PM
4/20/2024-4/21/2024
2
Sa Su
9:00AM-4:00PM
5/4/2024-5/5/2024
2
Sa Su
9:00AM-4:00PM
6/1/2024-6/2/2024
2
Sa Su
9:00AM-4:00PM
6/15/2024-6/16/2024
2
Sa Su
9:00AM-4:00PM
6/29/2024-6/30/2024
2
Sa Su
9:00AM-4:00PM