FIRST SAIL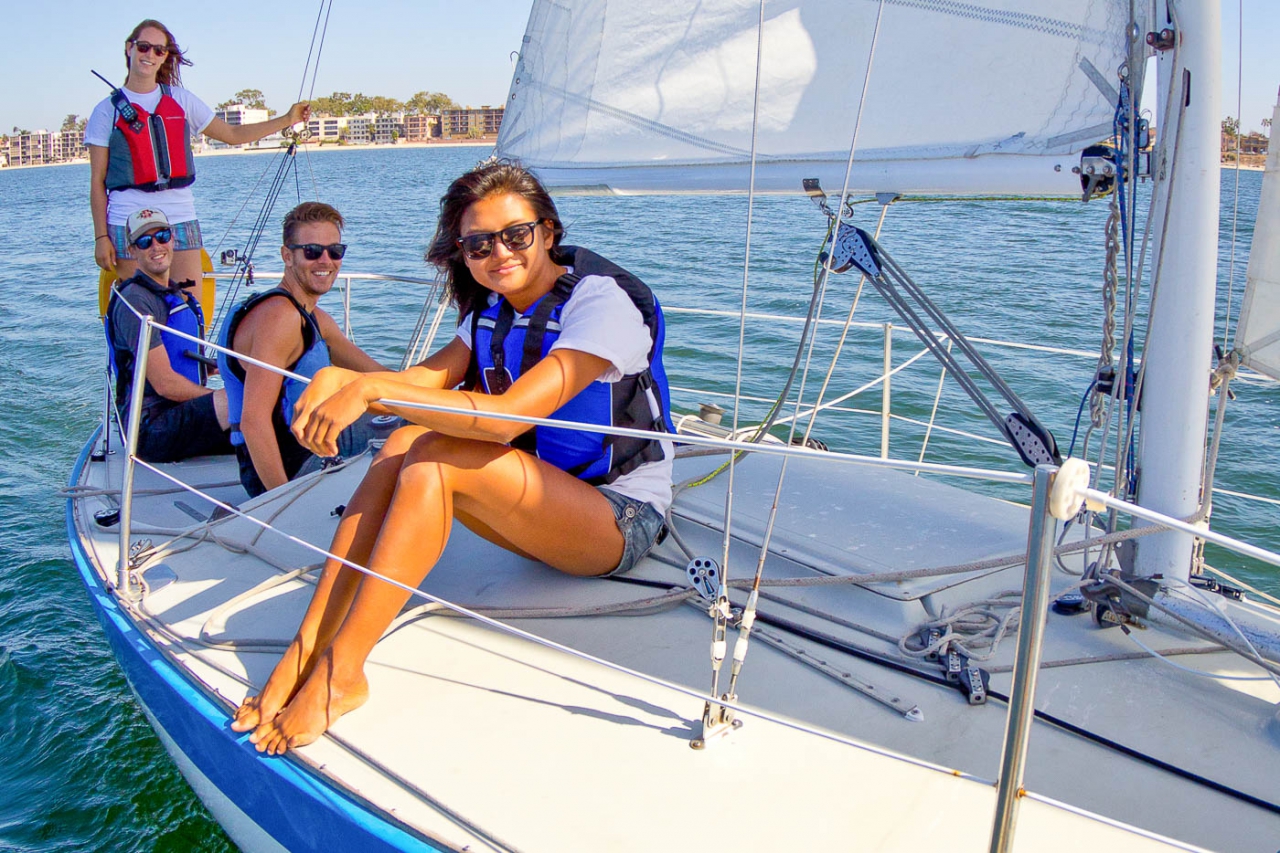 An introduction to keelboat sailing with a focus on understanding terminology and concepts. This two-hour course is perfect for those who want to experience sailing before committing to a full-length course.

What Will I Learn?
First Sail is a nationwide initiative developed by US Sailing. The goal of First Sail is to educate the public on the benefits of sailing as a fun and exciting recreational activity for people of all ages and abilities and connect them with opportunities to get involved.
Participants will get on the water in a keelboat with a sailing instructor. The First Sail Experience features basic sailing hands-on learning that will cover:
How a sail works
Parts of a sailboat
Points of sail
Safety guidelines
Is this the right class for me?
First Sail is ideal for those who want to experience sailing on Mission Bay with one of our instructors before committing to a full-length course.
This class is also a great opportunity to simply enjoy sailing on Mission Bay whether you intend to continue your sailing education or not.
If you already know that you want to learn to sail we suggest going straight to Basic Keelboat Level 1 or Basic Sailing.
Requirements
First Sail is an entry-level class with no required prerequisites or prior experience.
This class is open to all participants aged 14 and up.
A general liability waiver is required to participate. Anyone under 18 must have a waiver signed by their parent or legal guardian.
Participants must acknowledge that they are water safe (able to swim 50 meters and comfortably tread water).
How to Prepare
Wear comfortable clothes and dress in layers. The temperature can feel much cooler than expected once you are on the water, so it is a good idea to bring a jacket, even on warm days. We suggest comfortable closed-toed shoes and sunglasses and a hat are highly recommended. Lifejackets are provided.
It is unlikely that you will end up in the water while sailing during this class, but you may get a little bit wet from small splashes, handling wet lines, etc. anytime you go on a boat.
Parking can be a challenge at MBAC, especially during the summer months. Please visit our parking page for more information.
Rates
Course Fee: $80.00
UCSD/SDSU Student Fee: $60.00
This class is not being offered at this time. Please check back.
What's Next?
Many First Sail participants continue on to Basic Keelboat Level 1 and begin the process of obtaining their US Sailing Basic Keelboat certification.
If you are interested in becomming eligible to rent sailboats from MBAC we also suggest Basic Sailing.