ADVANCED SAILING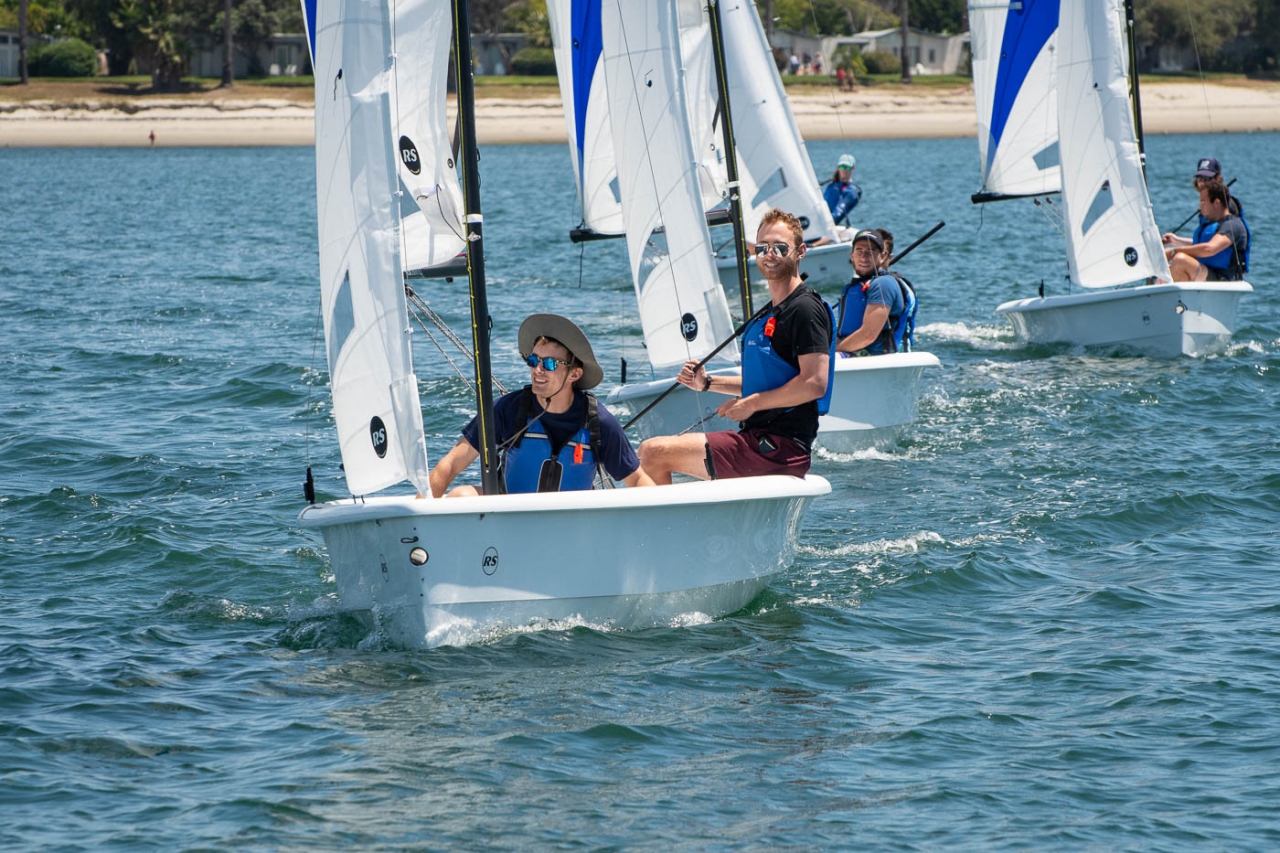 Take the next step on your sailing journey and learn to work as part of a team on a 14-foot RS Quest sailboat.
What Will I Learn?
By the end of Advanced Sailing you will be able to launch, rig, and sail a sloop-rigged dinghy as a skipper or crewmember. Topics covered include:
Launching and rigging the RS Quest sailboat
Jib sail trim
Proper use of sail controls
Body position including use of a tiller extension and hiking straps
Crew overboard recovery
Capsize recovery
Small boat communications and teamwork
Topics are introduced on land and then practiced on Mission Bay in a 14' RS Quest dinghy. Upon completion of the class you will be qualified to rent the RS Quest so you will be able to keep sailing and practicing your skills after the class ends.
Is this the right class for me?
This is the right class for you if you have completed Basic Sailing at MBAC and are ready for the next step in your sailing journey. This class is also well-suited for students who wish to become eligible to rent the RS Quest at MBAC. MBAC requires that you bring at least one other person with you to rent a RS Quest, but your passengers do not neet to be qualified to rent at MBAC.
If you have some sailing experience but have never taken a formal sailing class, we suggest starting with Basic Sailing. Our experience has shown that people who learn to sail informally often have gaps in their knowledge that are best addressed by completing an entry-level class.
Requirements
Prerequisite: MBAC Basic Sailing, MBAC Basic Keelboat Sailing Level 1, or equivalent experience.
This class is open to all participants aged 14 and up.
A general liability waiver is required to participate. Anyone under 18 must have a waiver signed by their parent or legal guardian.
Participants must acknowledge that they are water safe (able to swim 50 meters and comfortably tread water).
How to Prepare
Wear comfortable clothes and dress in layers. The temperature can feel much cooler than expected once you are on the water, so it is a good idea to bring a jacket, even on warm days. We suggest comfortable closed-toed shoes. Sunglasses and a hat are highly recommended. Lifejackets are provided.
During this class you will practice capsize recoveries, which will involve getting into the water. This is usually done on the second day of the class but may move to the first day depending on conditions. Bring swimwear and a change of clothes to class each day. You may use a MBAC wetsuit for no additional charge while participating in this class.
Outside of the capsize recovery it is unlikely that you will end up in the water while sailing during this class. However, it is possible, so we recommend wearing clothes that can get wet at all times. It is likely that you will get a little bit wet from small splashes, handling wet lines, etc. anytime you are on a boat.
Bring sunscreen, a refillable water bottle, and snacks or lunch (for all-day classes). MBAC has a water bottle refilling station and there are a number of restaurants nearby, but keep in mind that food and drink are not available for purchase at MBAC.
Parking can be a challenge at MBAC, especially during the summer months. Please visit our parking page for more information.
What's Next?
Upon successful completion of Basic Sailing you will be qualified to rent RS Quests at MBAC and will be ready for Hobie Sailing.
Rates
Course Fee: $215.00
UCSD/SDSU Student Fee: $150.00
Check out the
discounts
available for this class!
Upcoming Classes
ADVANCED SAILING SCHEDULE

Class Runs
Day(s)
Time
Enroll
1/20/2024-1/21/2024
2
Sa Su
9:00AM-4:00PM
2/10/2024-2/11/2024
2
Sa Su
9:00AM-4:00PM
3/2/2024-3/3/2024
2
Sa Su
9:00AM-4:00PM
3/23/2024-3/24/2024
2
Sa Su
9:00AM-4:00PM
4/13/2024-4/14/2024
2
Sa Su
9:00AM-4:00PM
5/4/2024-5/5/2024
2
Sa Su
9:00AM-4:00PM
6/8/2024-6/9/2024
2
Sa Su
9:00AM-4:00PM
6/29/2024-6/30/2024
2
Sa Su
9:00AM-4:00PM
sailing Discounts!
SMALL BOAT SAILING PACKAGE
Package price includes Basic Sailing, Advanced Sailing, and Hobie Cat Sailing
$525.00 Package Fee
$365.00 SDSU/UCSD Student Fee