BASIC SAILING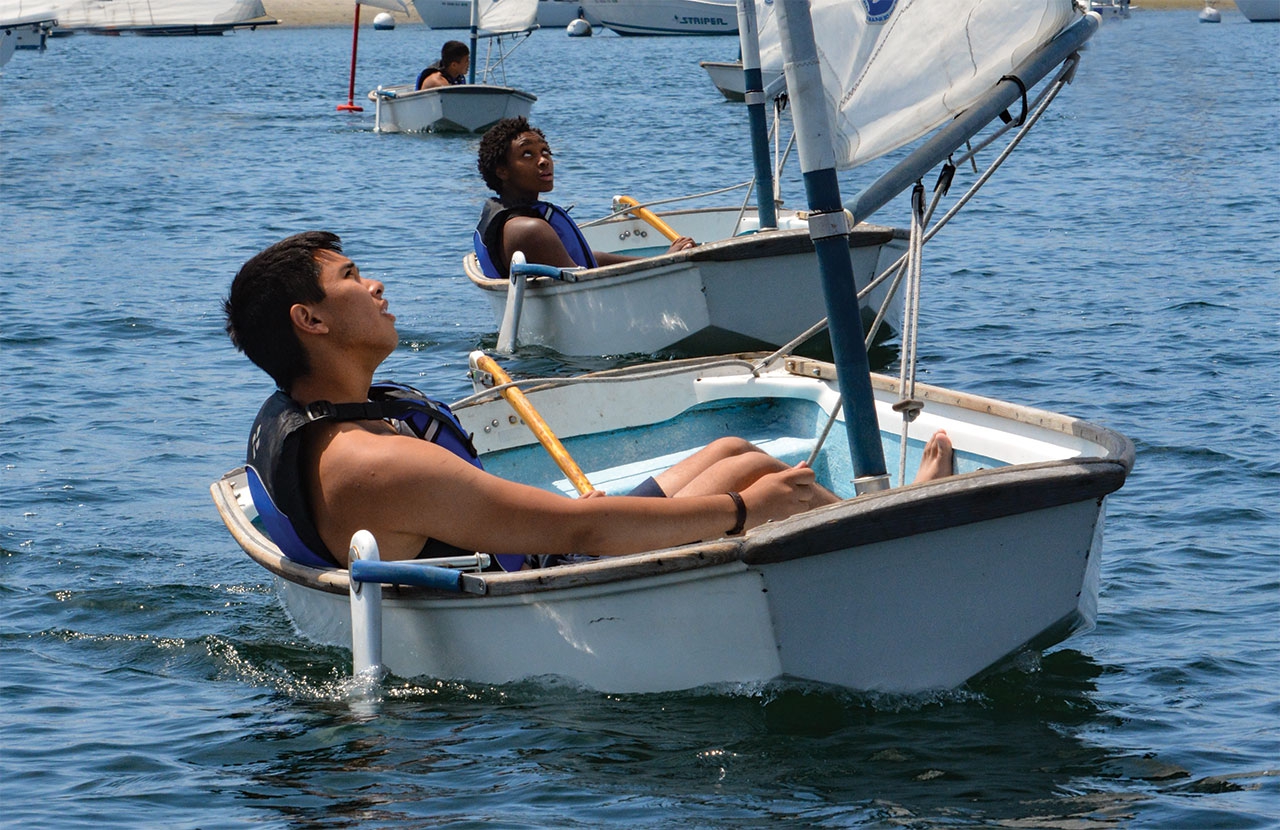 This class is the perfect introduction to sailing. Through classroom instruction and on-the-water practice you will learn how to skipper your own single-handed Sabot sailboat. Plenty of practice time will give you confidence and a solid foundation in sailing to prepare you for sailing larger, more advanced boats.
What Will I Learn?
By the end of this class someone with no prior sailing experience will be able to safely and confidently sail a small boat in protected waters without instructor supervision. Topics covered include:
Knots
Sailing Terminology
How sails work
Points of sail
Sail trim
Tacking
Jibing
Upwind Sailing
Navigation rules
Topics are introduced in the classroom and then practiced on Mission Bay in a Sabot dinghy, the classic Southern California learn-to-sail boat. Upon completion of the class you will be qualified to rent the Sabot on your own so you will be able to keep sailing and practicing your skills after the class ends.
Is this the right class for me?
Basic Sailing is one of two entry-level sailing classes offered at MBAC, the other option for beginners being Basic Keelboat Level 1. Basic Sailing is the right choice if you want the opportunity to sail a boat on your own and want to become eligible to rent sailboats from MBAC. Basic Keelboat Level 1 is a better choice if you hope to sail larger boats in the future or are interested in obtaining a US Sailing Keelboat Sailing certification.
Additionally, Basic Keelboat Level 1 may be a better option for students with mobility issues as the keelboat used in that class does not demand as much agility as the Sabot used in Basic Sailing.
If you have some sailing experience but have never taken a formal sailing class, we suggest starting with Basic Sailing or Basic Keelboat Level 1. Our experience has shown that people who learn to sail informally often have gaps in their knowledge that are best addressed by completing an entry-level class.
Requirements
Basic Sailing is an entry-level class with no required prerequisites or prior experience.
This class is open to all participants aged 14 and up.
A general liability waiver is required to participate. Anyone under 18 must have a waiver signed by their parent or legal guardian.
Participants must acknowledge that they are water safe (able to swim 50 meters and comfortably tread water).
How to Prepare
Wear comfortable clothes and dress in layers. The temperature can feel much cooler than expected once you are on the water, so it is a good idea to bring a jacket, even on warm days. We suggest comfortable closed-toed shoes. Sunglasses and a hat are highly recommended. Lifejackets are provided.
It is unlikely that you will end up in the water while sailing during this class, but it is possible, so we recommend wearing clothes that can get wet. It is likely that you will get a little bit wet from small splashes, handling wet lines, etc. anytime you go on a boat.
Bring sunscreen, a refillable water bottle, and snacks or lunch (for all-day classes). MBAC has a water bottle refilling station and there are a number of restaurants nearby, but keep in mind that food and drink are not available for purchase at MBAC.
Parking can be a challenge at MBAC, especially during the summer months. Please visit our parking page for more information.
Rates
Course Fee: $180.00
UCSD/SDSU Student Fee: $135.00
Check out the
discounts
available for this class!
Upcoming Classes
BASIC SAILING SCHEDULE

Class Runs
Day(s)
Time
Enroll
8/15/2022-8/17/2022
2
M W
3:30PM-6:30PM
8/20/2022-8/21/2022
2
Sa Su
9:00AM-4:00PM
9/10/2022-9/11/2022
2
Sa Su
9:00AM-4:00PM
9/24/2022-9/25/2022
2
Sa Su
9:00AM-4:00PM
10/8/2022-10/9/2022
2
Sa Su
9:00AM-4:00PM
10/22/2022-10/23/2022
2
Sa Su
9:00AM-4:00PM
11/5/2022-11/6/2022
2
Sa Su
9:00AM-4:00PM

Advance registration required. Please register online using the Enroll link or call (858) 488-1000 to register by phone.
What's Next?
Upon successful completion of Basic Sailing you will be qualified to rent Sabots at MBAC and will be ready for Advanced Sailing.
sailing Discounts!
SMALL BOAT SAILING PACKAGE
Package price includes Basic Sailing, Advanced Sailing, and Hobie Cat Sailing
$425.00 Package Fee
$315.00 SDSU/UCSD Student Fee