SURFING-FOUR SESSION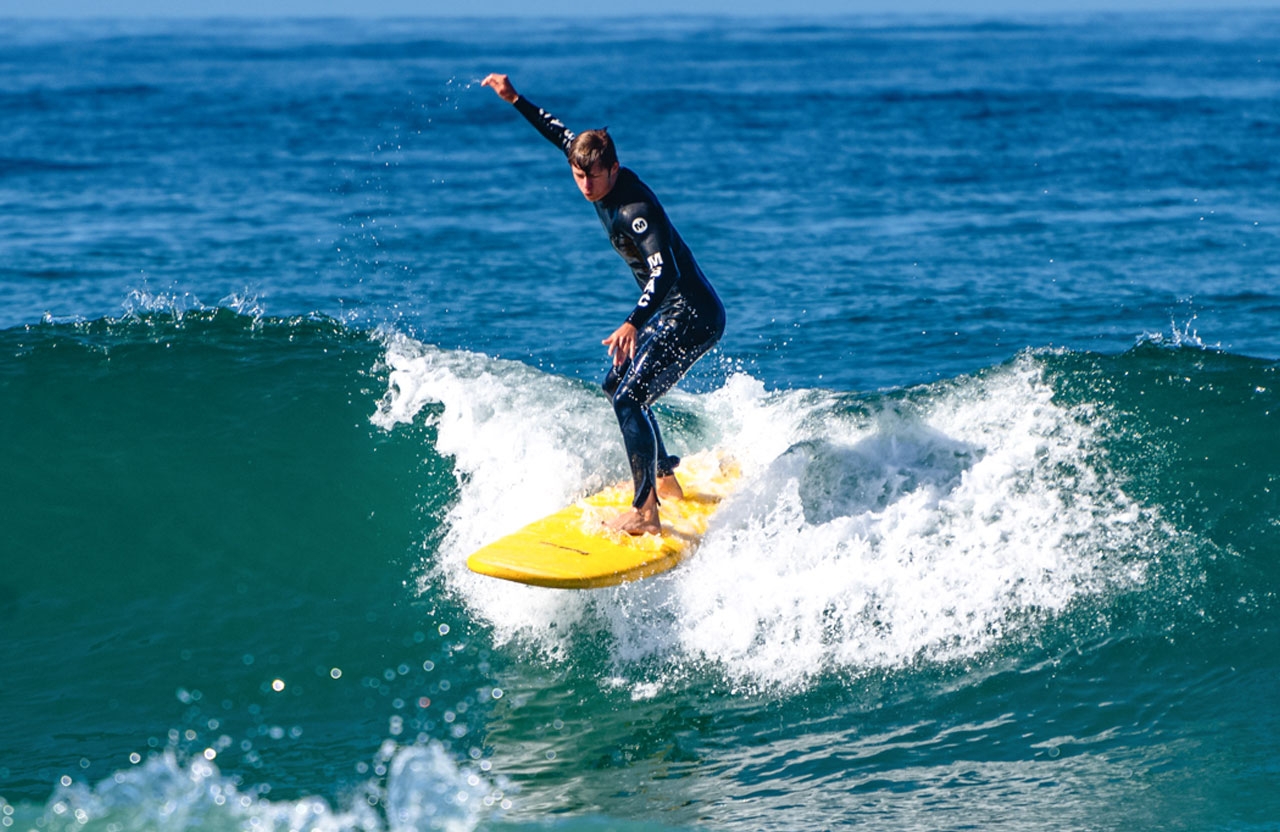 Learn the sport of surfing through our most popular and comprehensive surf class. The course begins with a lecture on fundamental surfing topics. You will then put this knowledge to practical use in the waves of Mission Beach. The majority of the class will be spent catching waves with instructors coaching from the water.
What Will I Learn?
By the end of this class participants will be able to safely surf in conditions appropriate for their skill level. Topics include:
Surf conditions checks (wind, tide, swell, current)
Board management
Paddling techniques
Pop-up techniques
Board types
Topics are introduced in the classroom and then practiced in Mission Beach. Paddling techniques will first be practiced in the flat water of Mission Bay before moving to the surf.

Is this the right class for me?
Surfing Four Session is a great fit for anyone looking for an introductory surf class that includes multiple sessions of coaching in the ocean. This is an in-depth class with both in-classroom and on-water instruction. If you are want to try surfing in a shorter one-session class we suggest Introduction to Surfing.
Requirements
Surfing Four Session is an entry-level class with no required prerequisites or prior surfing experience.
This class is open to all participants aged 14 and up.
A general liability waiver is required to participate. Anyone under 18 must have a waiver signed by their parent or legal guardian.
Participants must acknowledge and show that they are water safe (able to swim 50 meters and comfortably tread water). You will complete a swim assessment in the flat water of Mission Bay before entering the ocean.
How to Prepare
Be prepared to get in the water for each day of this class. Wetsuits and surfboards are provided. Standard bathing suits are typically worn underneath wetsuits.
You may bring your own wetsuit if you already own one, but we do not allow students to bring their own surfboards (MBAC provides boards that have proven to be appropriate for learning and safe for use in a group setting).
Bring sunscreen and a refillable water bottle. MBAC has a water bottle refilling station and there are a number of restaurants nearby, but keep in mind that food and drink are not available for purchase at MBAC. Lockers and showers are provided.
Parking can be a challenge at MBAC, especially during the summer months. Please visit our parking page for more information.
What's Next?
After this course many students purchase their own surfing equipment and continue surfing on their own. MBAC also offers surfboard and wetsuit rentals. If you would like more surfing instruction after this course we encourage you to book a Surfing Private Lesson.
Rates
Course Fee: $215.00
UCSD/SDSU Student Fee: $150.00
Upcoming Classes
SURFING-FOUR SESSION SCHEDULE

Class Runs
Day(s)
Time
Enroll
2/17/2024-2/25/2024
4
Sa Su
9:00AM-11:30AM
3/2/2024-3/10/2024
4
Sa Su
9:00AM-11:30AM
4/6/2024-4/14/2024
4
Sa Su
9:00AM-11:30AM
4/20/2024-4/28/2024
4
Sa Su
9:00AM-11:30AM
5/18/2024-5/26/2024
4
Sa Su
9:00AM-11:30AM