SMALL BOAT SAILING PRIVATE LESSON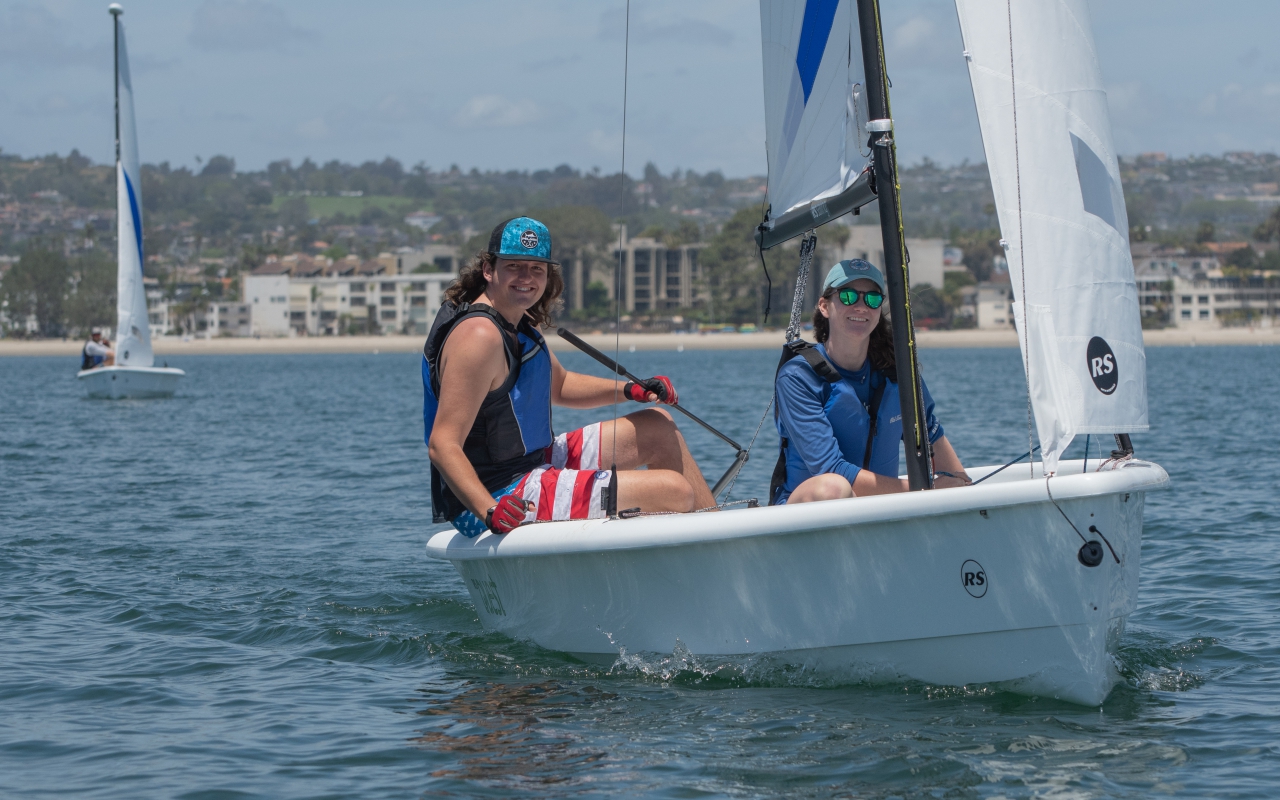 Small Boat Sailing private lessons are perfect for someone who wants to learn to sail but cannot fit our regular classes into their schedule. They are also well-suited as an orientation for someone who already knows how to sail to become eligible for our self-serve sailing rental program.
Small boat sailing lessons include instruction on the boat of your choice (Sabot, RS Quest, Hobie Getaway, or Laser), which you will specify at the time of booking. Currently laser private lessons are only available by request and will not be displayed as a listed option when booking online. Please call us at 858-488-1000 to request a Laser private lesson.
What Will I Learn?
Private lesson learning topics are tailored to your specific learning objectives and commonly include:
Launching and rigging the Sabot, RS Quest, Hobie Getaway, or Laser
Review basic sail theory
Sail trim, steering, tacking, jibing, upwind sailing
How to safely handle your boat of choice, independent of an instructor
Body mechanics specific to your boat of choice
MBAC rental rules and procedures including safety rules, boundaries, proper use of equipment, and rental return times
How to safely recover from a capsize (Sabot excluded)
Proper storage of equipment at our facility
Is this the right class for me?
This is the right class if you are looking to learn to sail small boats but cannot fit our regular classes into your schedule. This is also a great fit for anyone with sailing experience looking to become eligible to rent sailboats at MBAC. MBAC requires you to bring at least one other person with you to rent the Hobie Getaway, but your passengers do not need to be present for the lesson, nor do they need to be qualified to rent at MBAC. Students who have taken any of our formal Recreational Classes can use a private lesson as an opportunity to refresh their skills while in the presence of an instructor. Private lessons are also a good opportunity to get out on the water for the day if you are not certified for rentals while your instructor sails the boat!
If you have little to no sailing experience, we suggest starting with learning the basics on the Sabot. Be aware that a certain degree of mobility is required to effectively maneuver on a small monohull such as the Sabot, RS Quest, or Laser. A better option for those with balance or mobility issues may be to book your lesson on the Hobie Getaway which is a 16-foot catamaran with much more stability.
Requirements
Private Lessons have no prerequisites or required prior experience.
Lessons are open to all participants aged 6 and up. Minimum age requirement for a Laser private lesson is 10 years old.
A general liability waiver is required to participate. Anyone under 18 must have a waiver signed by their parent or legal guardian.
Participants must acknowledge that they are water safe (able to swim 50 meters and comfortably tread water).
Up to 5 participants. For lessons for more than 5 participants please see special events.
If you are using the private lesson to become qualified to rent at MBAC you must be able to demonstrate the following skills during your lesson:
Solid understanding of basic sail theory
Rigging
Upwind Sailing
Capsize Recovery
Derigging and storage of equipment
How to Prepare
Wear comfortable clothes and dress in layers. The temperature can feel much cooler than expected once you are on the water, so it is a good idea to bring a jacket, even on warm days. We suggest comfortable closed-toed shoes. Sunglasses and a hat are highly recommended. Lifejackets are provided and required for all sailing lessons.
Additionally, if your goal is to become qualified to rent on the RS Quest, Hobie Getaway, or the Laser, you will practice a capsize recovery, which will involve getting into the water. Bring swimwear and a change of clothes. You may use a MBAC wetsuit for no additional charge while participating in your lesson.
Outside of the capsize recovery it is unlikely that you will end up in the water while sailing during your lesson. However, it is possible, so we recommend wearing clothes that can get wet at all times. It is likely that you will get a little bit wet from small splashes, handling wet lines, etc. anytime you are on a boat.
For any lesson, we recommend bringing sunscreen and a refillable water bottle. MBAC has a water bottle refilling station, but keep in mind that food and drink are not available for purchase at MBAC.
Parking can be a challenge at MBAC, especially during the summer months. Please visit our parking page for more information.

What's Next?
Continue your sailing education through our Recreational Classes or another Private Lesson. Successful qualification for renting the RS Quest, Hobie Getaway, or Laser also makes you eligible for our Sailing Membership program! Membership is a low-cost way to continue sailing and learning through discounted rentals and free instructional clinics. Find rates and more details on our Membership page.
Rates
Course Fee: $170.00
UCSD/SDSU Student Fee: $100.00
Rates above are for a 2-hour lesson (minimum). Additional hours will incur additional charges.
Additional persons are $20/hour per person, up to 5 participant maximum.
For lessons for more than 5 participants please see special events.
Upcoming Classes
SMALL BOAT SAILING PRIVATE LESSON SCHEDULE


| Class Runs | Day(s) | Time | Enroll |
| --- | --- | --- | --- |