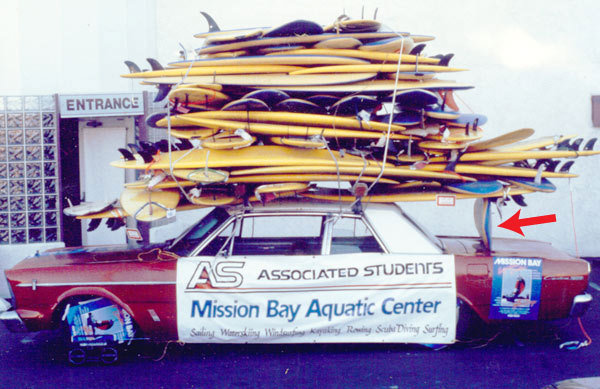 Most people have heard of telephone booth stuffing but few outside of the world of surfing have heard of surfboard stacking, or of MBAC's 10 year reign as a the world record holder in the category. Now, thank you to the Encyclopedia of Surfing, the record is once again archived in history.
The world record effort was even lost from the of recollection of current staff until MBAC Instructional Manager just happened to be looking through the Encyclopedia of Surfing and came across the obscure entry; surfboard stacking. According to the encyclopedia, surfboard stacking is, "The diversion in which surfers lash down as many surfboards to the roof of a car. The board loaded car had to be driven a short distance (100 ft) under it's own power."
The entry highlights the many successful, and failed attempts, to best the previous records from as early as 1962, through the 70's. Then after disappearing for more than 15 years instructors from the Mission Bay Aquatic Center in 1988 made a strong bid to beat the record by stacking 115 boards on top of a Ford Galaxy 500, only to be disqualified because of a sideways propped board on the Galaxy's trunk (pictured above), which violated the rule that all structural support had to be originated from the roof. 3 months later the staff reattempted the record with a perfectly executed 141 board effort. The record held for 10 years until a group from Santa Barbara thatched together 282 boards on top of a Humvee and smoothly glided to a new record.
You can read the board stacking entry in the Encyclopedia of Surfing at Google books.
(Visited 414 times, 1 visits today)