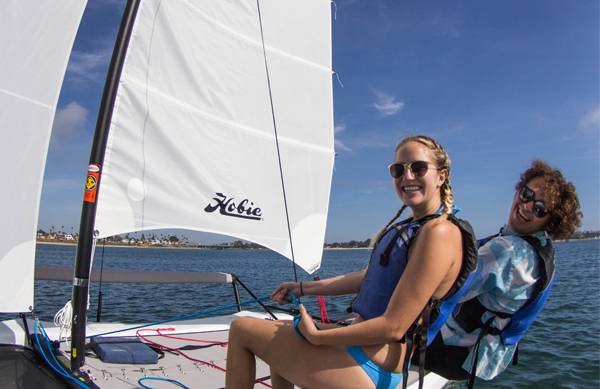 We are excited to announce that Mission Bay Aquatic Center is now offering unbeatable sailing memberships! Our membership program provides a way to access sailboats and get out on the water as frequently as you would like. Affordably priced at just $45/month with a $150 initiation fee, Sailing Memberships are a low-cost way to sail with ease and convenience without the headache or expense of owning your own boat.
The $150 initiation fee is waived for first-time members who are currently qualified to rent sailing equipment at MBAC through having completed a class, lesson, or rented a sailboat with us in the past 5 years. For sailors who have not yet completed qualifications, the $150 initiation fee includes a mandatory two-hour member orientation and skills assessment that will include qualification for one type of vessel (Hobie Getaway, RS Quest, Sabot, Laser, or Windsurfer). Members are eligible for free Instructional Clinics where sailors can try new things and improve their skills on the water.
For just $5 more than a single sailboat or windsurf rental, you could sail or windsurf as much as you would like each month. Plus, as a member, you will receive some pretty amazing benefits including:
Unlimited Sailing Rentals*
Free instructional clinics to continue your sailing education
Initiation fee waived for first time members whoa re currently qualified to sail MBAC equipment
10% off classes
20% off paddleboard and kayak rentals
Add paddling membership for only $10 more per month
Skip the line! Take your membership card straight to the dockmaster to check out equipment!
Member-only used equipment sales
Member-only coupons and special offers
Membership dues support camperships and programs for persons with disabilities
If you've already completed a qualification, you can register to become a member the next time you are at MBAC! If you haven't completed a qualification yet, book your Sailing Membership Orientation today!
*TERMS AND CONDITIONS
Minimum 4 month membership commitment.
Member must know how to sail and pass a skills evaluation on each piece of equipment before being allowed to rent that specific equipment.
New members who have not yet completed a qualification on MBAC equipment must attend a 2-hour membership orientation before renting. Through the orientation you will be able to qualify to rent one type of sailboat.
Initiation fee waived for first time members who are currently qualified to sail MBAC equipment.
Membership fee will be auto-charged monthly January-November (no charge in December).
Sailing membership includes use of Sabot, RS Quest, Hobie Getaway, Laser, and Windsurfing Equipment. A qualification is required for each type of boat.
One 2.5 hour rental per day.
No pets or alcohol allowed on MBAC equipment.
MBAC rentals must remain in Sail Bay.
Membership does not guarantee availability of equipment during peak times.
Member must remain on the equipment while it is sailing.
Commercial activity is prohibited on rental equipment.
Class discount cannot be combined with other discounts including class packages.
Please review the Rental Agreement Contract during membership registration for a full list of terms and conditions.
(Visited 2,578 times, 22 visits today)