In collaboration with the California State Parks Division of Boating and Waterways, we will be celebrating safe boating on Sunday, April 24th with no-cost paddling and sailing safety courses, a used equipment sale*, and a free lifejacket giveaway.
*Limited spots available. Sign up for a time while supplies last.
Paddling and Sailing Safety Courses
For Safe Boating Day we are offering a limited number of no-cost, on-the-water instructional courses to learn to be a safer sailor or paddler.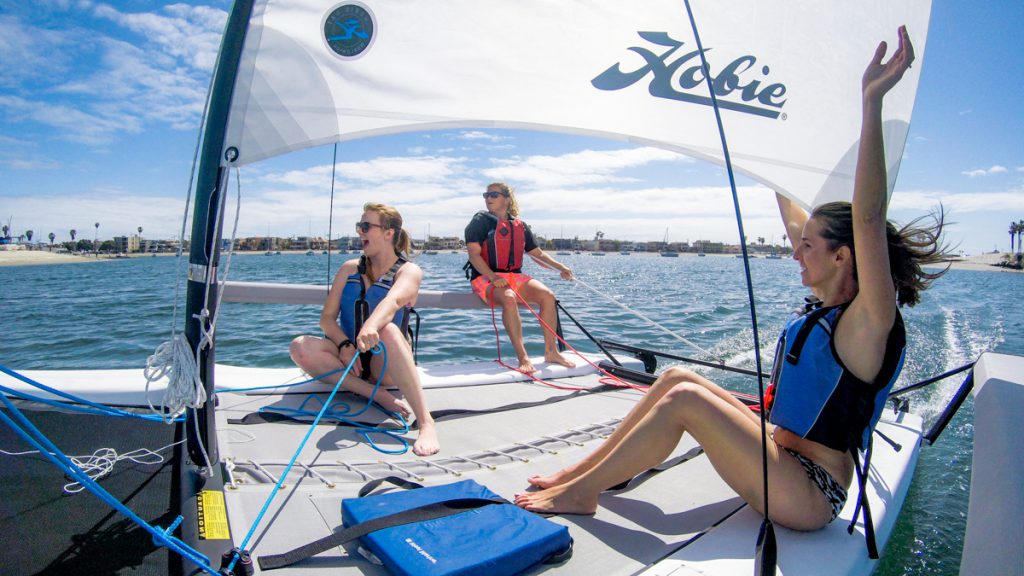 For sailors with previous sailing experience who have not been qualified to rent sailboats at MBAC, our Small Boat Sailing Safety Training Course is a great opportunity to learn more about sailing safely on Mission Bay and to become qualified to rent Hobies or Lasers from MBAC. These courses are designed for sailors with experience looking to expand their knowledge of rigging and fine-tune their sailing skills. Successful completion will allow participants to be eligible to rent Hobies or Lasers at our facility. Please select a class from the list below and use coupon code boatsafe2022 to register at no cost:
We have two options for aspiring or experienced stand up paddlers or kayakers to become proficient or more confident in their skills. The Paddle Smarter Clinic will teach Stand Up Paddlers to handle challenging conditions and to make paddling easier and more enjoyable. Experience Kayaking will acquaint participants with the sport of kayaking and will give them the opportunity to practice maneuvers to safely control a kayak while enjoying a guided tour of Mission Bay. Please select a class from the list below and use coupon code boatsafe2022 to register at no cost:
Used Equipment Sale
We are excited to host our Annual Used Equipment Sale on Sunday, April 24, 2022, from 10am-2pm. If you're interested in purchasing equipment, you will need to reserve a time to browse and purchase equipment. Before you book a time slot, please review the inventory list below to make sure that we may have what you are looking for. After booking a time, please make sure that you arrive early to find parking and give yourself plenty of time to be able to make it to your scheduled reservation slot. We may not be able to allow you to access the sale if you arrive later than your reserved time. If all time slots have been filled we will have open viewing of any remaining equipment from 2pm-3pm. We accept payment by credit card only and each attendee will be limited to the purchase of one paddleboard or surfboard. Below is a list of equipment that will be available for purchase:
Stand Up Paddleboards:
(20) – Well used – $150 to $250
Soft Surfboards
(8) – Well used – $40
Wakeboard/Waterski equipment
Varies – $10 to $250
J24 sailboat – $1000
Click here to reserve a time to attend the Used Equipment Sale. ** LIMITED SPOTS AVAILABLE **
Free Life Jacket Giveaway
We want to make sure that you are well-equipped for a safe, enjoyable time on and around the water this summer so we will be giving away a limited number of free youth and adult life jackets. Life jackets can be picked up on Sunday, April 24, 2022, from 10:00am-2:00pm while supplies last.
Life jackets are essential safety equipment for those spending time on or around the water. In 2021 drowning was reported as the cause of death in three-fourths of all boating-related fatalities, with approximately 85 percent of those who drowned not wearing life jackets. Please do your part to wear a life jacket and stop preventable drownings.
(Visited 2,157 times, 4 visits today)